Nutricote 18-6-8 (3 stage) slow release fertilizer - 1 lb. bag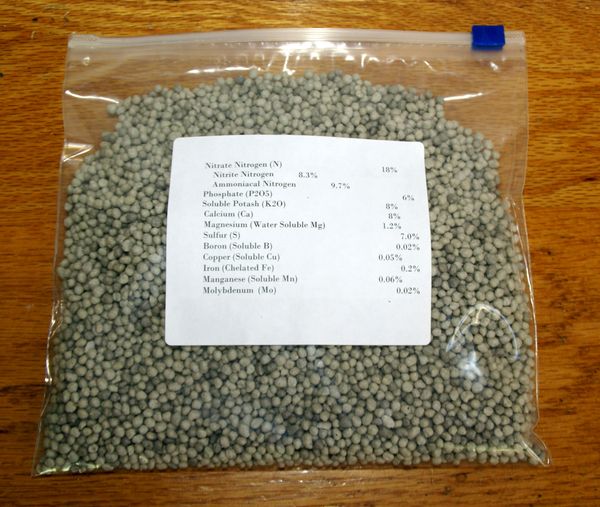 Nutricote 18-6-8 (3 stage) slow release fertilizer - 1 lb. bag
NUTRICOTE TOTAL 18-6-8 STAGE 3 (6 MOS)
Timed Released Fertilizer

1 pound,.
 FREE SHIPPING

                                                       One feeding lasts for 6 month
Nutricote uniformly releases fertilizer over time, based on temperature and moisture exposure. The release is controlled by a patented chemical release agent in the resin coating. Other controlled released fertilizers depend solely on the thickness of their resin, which results in non-uniform releases. Nutricote release periods are designated by Types. The Type number indicates the number of days at 77°F that the product will release 80% of its nitrogen. For example, Type 180 will release 80% of its nitrogen evenly over a 180-day period at 77°F.
Orchids, Rhododendron, Azalea, Gardenia, Ferns, Forestry Seedling, Greenhouse Vegetables, African Violets. Nursery Crops, Cut Flower Crops, Bedding Plants, Woody Ornamentals. Most Pot Crops, Most Foliage Crops.
Directions for use:    2 — 3 Teaspoons sprinkled on top of potting medium for 6 inch pot.  Smaller pots 1-1.5 tsp.
                                    Can also mix in potting mediums.
1 Pound contains approximately 70 teaspoons.
Dependable controlled feeding of nursery, greenhouse, foliage, landscape, bedding, potted plant including orchids.
Can be used alone but regular use of a water soluble plant food can be used randomly as well.
NUTRICOTE delivers all of these important benefits in a single controlled release fertilizer:
• Superior control of nutrient release for the most efficient use of your fertilizer investment
• Reduced leaching, so optimum fertilizer levels are maintained
• A high degree of plant safety when compared to similar products—reduced salt build-up
Reviews